What does the
Full licence test

involve?

Full Licence Test guide (class 1) Version 2 June 2014

The structure of the FLT
Test duration
The test takes a total of 30 minutes to administer.
This time allows for:
• meeting the applicant
• conducting the pre-drive safety checks
• conducting a 20-minute practical drive
• adding up of the score sheet at the end of the test
• providing feedback to the applicant on their performance at the end of the test.

Test route
The test is conducted in one stage and, as far as possible, is conducted in speed zones between 50-80km/h.
During the test, the applicant is directed to drive around a fixed test route and asked to perform specific driving tasks (such as turns or lane changes) at various locations, while at the same time verbally describing the hazards and their driving responses to those hazards. The Testing Officer (TO) uses a set of specific assessment items to assess how well the applicant performs each task.
To pass the FLT, an applicant must demonstrate safe decision-making, observance of road rules, a high standard of car-handling skills and ability to identify and apply the correct driving response to any hazards encountered.

Driving tasks
There are two types of driving tasks in the FLT:
• Assessable tasks include left and right turns, lane changes (or turning right across traffic where lane changes are not available) and right at a roundabout. The applicant's performance on each assessable task is assessed according to predetermined task assessment items.
• Linking manoeuvres join up the assessable tasks into a complete driving route that begins and ends at the car park of the testing office or other suitable location for the start of the FLT. Linking manoeuvres include similar driving manoeuvres to the assessable tasks but do not have associated task assessment items assigned to them.
There are eight assessable tasks in the FLT.

Hazard perception
During each of the eight assessable driving tasks in the FLT, the applicant is also required to verbally describe (in a few simple words) as they undertake each assessable task:
• the hazards,and
• their actions in response to those hazards.
Assessment items and When might I fail the test?
During the test the applicant will be assessed against three different assessment criteria:
1. Task assessment items - assess one aspect of driving performance during the execution of each assessable task at a specific location on the test route.
2. Critical errors - are recorded at any time they occur during the FLT, whether during an assessable task or not.
3. Immediate failure errors - also recorded at any time they occur and result in the immediate failure of the test. The immediate failure.
You could also fail the test (with the test being terminated) if you:
drive recklessly, dangerously or inconsiderately
are involved in a crash for which you are wholly or partly responsible
are unable to carry out the instructions given by the testing officer because of lack of driving ability
exceed the speed limit
fail to comply with give way rules or Give Way signs
fail to comply with traffic signals or Stop signs
use a hand held cellphone while driving during the test
send or receive a text message while driving during the test.

Note that this guide does not cover the number of driving faults that are permitted during the test as the pre-test preparation should not be focused around how many driving faults may be made during the test, but rather whether the novice driver has the necessary skills to be a safe driver (ie, they can consistently perform the driving tasks to the required standard).
If the novice driver is making any critical error
Assessable driving tasks
Table 1 shows the typical assessable driving tasks for the FLT. Some tasks may be assessed more than once and may be assessed at intersection types that differ from those shown here. It is also possible that some tasks may be replaced by others if they cannot be undertaken on a particular test route.


Typical assessable driving:
Right turn giving way to intersecting traffic(one lane each way). May be at a 'T' or cross-intersection
Note: This task occurs twice
Right turn giving way to one lane of oncoming traffic
Note: This task occurs twice
Right turn giving way to two lanes of oncoming traffic
Left turn giving way to intersecting traffic (two lanes each way). May be at a 'T' or cross-intersection

Lane change right
OR
Lane change left
Right turn at a roundabout

Task assessment items
Each task assessment item assesses one aspect of driving performance during the execution of an assessable task at a specific location on the test route. For example, observation might be assessed when turning right from Smith Street into Jones Road.
Task assessment items are not assessed while driving between assessable driving tasks. They contribute to the applicant's point score for the test

There are six task assessment items that may be assigned to an assessable task as follows

Task assessment items

Observation
Following distance
Signalling
Hazard detection
Gap selection
Hazard response

Critical errors
A critical error is a serious driving error that does not meet the conditions for an immediate failure error. Critical errors are recorded at any time they occur during the test, whether or not the applicant was undertaking an assessable task at the time or the error. Most illegal driving actions are classified as critical errors (except errors that endanger any road user, which are classified as immediate failure errors). Critical errors are more important than the errors assessed by task assessment items, so critical errors have a greater influence on the outcome of the test.

Critical errors

Driving too slow
Blocking a pedestrian crossing
Driving too fast
Mounting a kerb
Failing to look
Stalling the vehicle
Failing to signal
Other illegal action

Immediate failure errors
Immediate failure errors are recorded at any time they occur during the test regardless of whether or not the applicant was undertaking an assessable task at the time of the error. All driving actions resulting in immediate danger to any road user or to property are classified as immediate failure errors and would usually be when the applicant is operating the vehicle carelessly, dangerously or recklessly. Immediate failure errors are the most dangerous errors of all, and result in immediate failure of the test.

Immediate failure errors

TO intervention
Fail to give way
Failure to carry out an instruction
Stops at dangerous position
Collision
Fails to stop
Excessive speed
Other dangerous action

You need to Know

Pedestrian crossing A part of the road painted with parallel white stripes and indicated by a pedestrian crossing sign, with or without flashing yellow lights.

Diverging Any lane change, lane merge or lateral movement within the lane (whether marked or unmarked) of at least a car width.

Evasive action Any change of course or speed (including swerving, stopping, slowing or accelerating) by another road user to avoid a potential collision with the applicant's vehicle.

Head check The applicant looks back over their left or right shoulder through the vehicle's side windows (not the rear window) to check for other road users in blind spots that cannot be seen in the mirrors.

Lane A portion of the road intended for use by a single line of traffic. The left and right boundaries of the lane may be defined by pavement markings (lane lines, centre line or edge line) or by the kerb, the edge of the sealed road surface or the centre of the road.

Lateral Movement sideways or from side to side (differs from forwards and backwards).
Merging
1. A single vehicle joining a traffic stream (eg when a vehicle pulls out from the kerb), or
2. Two or more traffic streams joining to become one stream (eg when two adjacent lanes join to become a single lane).

Road user The driver or rider of a motor vehicle or the rider of a bicycle or a pedestrian.

TO Testing Officer
Traffic Includes not only motor vehicles (cars, trucks, motorcycles, etc.) but also bicycles and pedestrians.
Turning Changing direction to travel from one road into another road at an intersection. Does not include driving around a curve or bend when continuing on the same road or when following the centre line at an intersection.
The pre-test vehicle roadworthiness check
Overview
Documentation
Before beginning the FLT, the Testing Officer (TO) will:
• check the applicant's identity
• conduct a pre-drive safety check
• conduct an in-vehicle safety check.

Prior to commencing the test the TO will:
• sight the applicant's restricted driver licence to ensure it is current and to confirm their identity
• check the vehicle to be used in the test for:
– a current warrant of fitness or certificate of fitness label
– a current vehicle licence (registration) label
– a current RUC label, if it is a diesel vehicle
– sufficient fuel to complete the test.

If any of these requirements cannot be met, the test will be cancelled.
Vehicle roadworthiness and controls
The vehicle to be used for the test must comply with the legal provisions that govern its use on the road. While TOs do not examine the vehicle in detail, they will check the items listed below to ensure that all safety items are in a roadworthy state. Applicants will be requested to assist with the pre-drive check.
If the vehicle is not roadworthy, the test will not proceed.
Vehicle posture (car only)
The vehicle is sitting square to the road, indicating all tyres have equal or close to equal pressure.

Body work
The vehicle has no obvious damage that could be considered dangerous.

Tyres and wheels
Tyres should have the required tread depth and no uneven wear, and wheels should appear undamaged (visual inspection only). Winter and summer tyres are not mixed. The test cannot proceed if a space-saver tyre is fitted to the vehicle.

Indicators and brake lights
Indicators and brake lights (to meet equipment requirements) operate correctly and all lenses are intact.

Headlights
Lenses must be intact and high and low beams operate if the test is to take place in low light conditions.

Windscreen wipers
Wipers must operate satisfactorily if the test is to take place in rain or fog.

Horn
The horn must operate.

Driver/rider safety
Mirrors are checked for position and seatbelts are in safe and serviceable condition.

In-vehicle safety checks
The TO will check if the applicant is able to identify where the following controls are located in the vehicle:
• Parking brake.
• Windscreen demister.
• Rear window demister (where fitted).
If the applicant is unable to identify the items above they will be pointed out to them and the applicant will still be able to undertake the test. However if it becomes necessary to use one of the controls during the test and the applicant requires assistance to operate the control, an immediate failure error will result.
The pre-drive safety check and in-vehicle check do not contribute to the applicant's test score.
Carry your driver licence
On the day of your test, make sure that your driver licence is current and that you have it with you (you must always carry your driver licence with you when you drive). If you arrive for the test and your licence isn't current or you don't have it with you, you won't be able to sit the test. You'll need to rebook – and pay the test fee again.
Make sure you're on time
Don't be late for the test. If you are more than five minutes late your test will be cancelled – you'll have to book and pay again to sit the test at a later date.
If you can't make the appointment, or need to change it, please contact your driver licensing agent. If you don't advise your driver licensing agent of a cancellation or change at least two working days (excludes weekends and public holidays) before the date of your appointment, the fee will not be refunded.
Note: remember that if you made your test booking using the telephone or on-line booking system, you must complete the application process at a driver licensing agent before you can sit your practical test. You should allow 30 minutes before your test appointment and check the licensing agent's opening hours, as they may not be open in the 30 minutes prior to your test appointment.
Taking a support person
When you sit the practical driving test you can choose whether or not to have a support person accompany you during the test.
This is a decision for you as the driver to make and you should not be pressured by any other person in making this decision.
If you choose to have a support person in the vehicle with you, the support person:
must be a person over 20 years of age
must not be accompanied by any other person or animal (except a guide dog)
must supply their name and contact details to the testing officer prior to the test beginning.
must not talk, offer assistance to, or distract the driver or testing officer at any stage during the test (should this occur, the testing officer will terminate the test and you would need to book and pay for another test)
must not interrupt the testing officer as they are providing feedback at the end of the test.
The testing officer may refuse to accept any person as a support person if the testing officer believes on reasonable grounds that:
his or her personal safety could be, or is, threatened or endangered, or
the support person appears to be under the influence of alcohol or drugs or is noisy or violent, or
there is no suitable seating available in the rear of the vehicle presented for the test.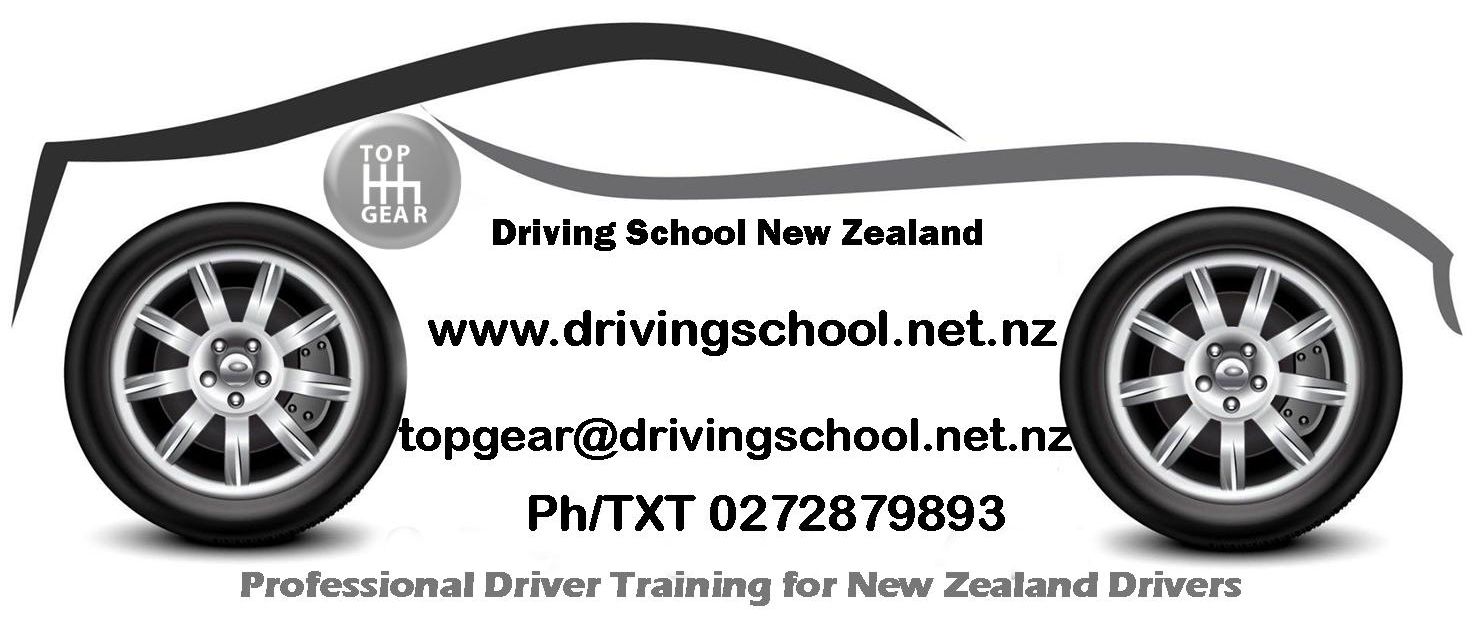 Make a Booking

Professional Driver Training For New Zealand Drivers
How do our students fare? Most people who take our Package lessons pass their driver's license test(updated 2017):
| Type of Licence | Pass Rate |
| --- | --- |
| Full standard | 100% |
| Overseas conversion | 100% |
| Restricted license | 98% |
| Heavy vehicle | 100% |
| Motorbike | 100% |
if you dont see your requirements listed ,please contact us and we will look at introducing a programme specific to your need.