What will happen during the restricted test?
Wondering what the restricted test involves? Don't worry, we have the answers.
The restricted test can be broken down into 3 stages.
Stage 1: The first 5 minutes
After you've met the Testing Officer, he or she will check your learner licence to confirm your identity. Then, they'll ask you to help them check your car to make sure it's safe to take out onto the road. After that, it will be time to begin your restricted licence test. The Testing Officer will take you through a set route that will take up to 45 minutes. Once the test begins the Testing Officer probably won't talk to you very much except to give you instructions. They need to concentrate on what they have to do and want to avoid distracting you with unnecessary talking. Don't be worried or offended if they can't chat with you during the test.
Stage 1: About 10 minutes long
The Testing Officer will use this time to check you know the basics well enough to progress to the more challenging driving tasks in the next stage. You'll do some basic driving and signalling and a reverse parallel park.
Stage 2: About 35 minutes long
The main part of the test will be used to check you display safe driving skills and can use good judgement across a range of driving tasks, roads and traffic. When you've completed the test, the Testing Officer will direct you back to where you began the test and will then tell you the result of your test and go over any errors you made.
What you'll be tested on
Check out our page on How is the test marked? for info on what kind of things you'll be assessed on during your restricted test.
What you'll have to do
Stage 1 of the test:
In stage 1 of the test, you'll be required to do certain manoeuvres on roads with speed limits up to 60 km/h. These will include:
Left and right turns at intersections (this could be at Give Way or Stop signs, or at intersections with no signs).
Driving on a multi-lane road and changing lanes to the left and right (though this may not be possible on all test routes).
A reverse parallel park. If there isn't a suitable space for you to do the parallel park, the testing officer will instruct you to do a three-point turn instead.
At the end of stage 1, the Testing Officer will ask you to pull over so they can mark this part of the test. They'll check whether you've done well enough to carry on to stage 2 of the test.
Stage 2 of the test:
In stage 2 you'll have to drive in areas with speed limits from 50 km/h up to 80 km/h or even 100 km/h on some test routes. The manoeuvres you'll be required to do will include:
Right turns, left turns and driving straight at a variety of intersections. The turns may be on to or off roads that have multiple lanes.

Enter and exit roundabouts. You'll need to go straight ahead at a roundabout at least once and make a right turn at a roundabout at least once.

Merge lanes and drive straight along main roads with speed limits from 60-80 km/h or even 100 km/h.

Change lanes to the left and right. On some test routes you will have to change lanes in order to complete a left or right turn. However, the Testing Officer will only instruct you to complete the turn – it will be up to you to realise you need to change lanes. The testing officer will give you plenty of warning so you can complete this manouver safely.
These types of manoeuvres are the 'assessable tasks' that the Testing Officer will check that you can do safely. There are seven assessable tasks in stage 1 and 18 in stage 2 of the test – 25 altogether. The Testing Officer will get you to do more manoeuvres than aren't assessable tasks in order to complete the test route, but you won't necessarily know which manoeuvres are assessable tasks and which ones aren't. This means that you'll be very busy and you'll need to concentrate on your driving and be alert for the whole 45 minutes of driving time during the test.
Knowing which manouvers to perform
The Testing Officer will always tell you when and where to perform each manoeuvre. It's fine to ask the Testing Officer to repeat the instruction or check with them exactly where they want you to perform the manoeuvre (e.g. "is it this street up here or the next one?").
If you pass the test
If you pass the test, the testing officer will keep your learner licence and give you a temporary paper restricted licence. This temporary licence is valid for 21 days and must be carried with you when you drive. Your restricted photo driver licence will be mailed to you before the temporary one expires. Your Testing Officer may give you feedback on the things you did well and the things you need to work on. They will give you a feedback form (see below) outlining these. It's important to take note of the things you need to work on so that you don't make the same mistakes when you eventually sit your full licence test.
If you fail the test
The Testing Officer will return your learner licence to you before you leave and will give you feedback on why you failed. They will also note on a feedback form what you did wrong. It looks like this: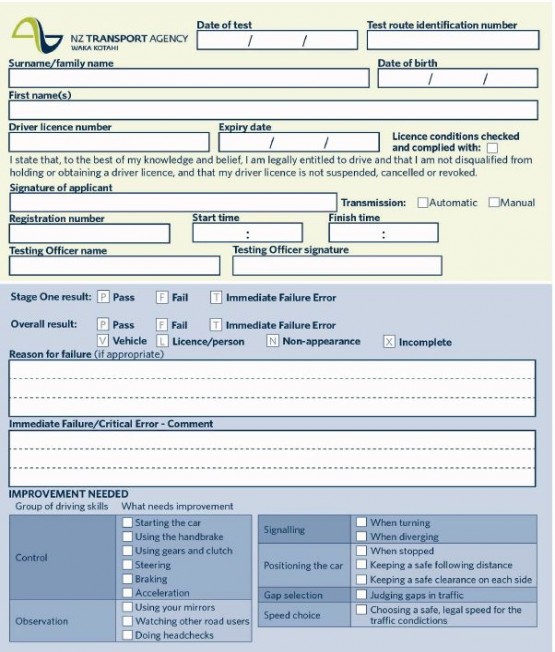 Try not to be discouraged – failing just means that you need to do a bit more work on your driving before you try again.
Look carefully at the feedback form to note the areas you need to work on. Then use the videos and written content on the Drive website to work out what you need to practise for your next attempt at the test.
If you're still unsure if you're ready or don't understand what you did wrong, it can be worth investing in a lesson with a professional driving instructor to help you work out what you need to practise doing differently. Remember to show them the test feedback form.

Make booking for practice TEST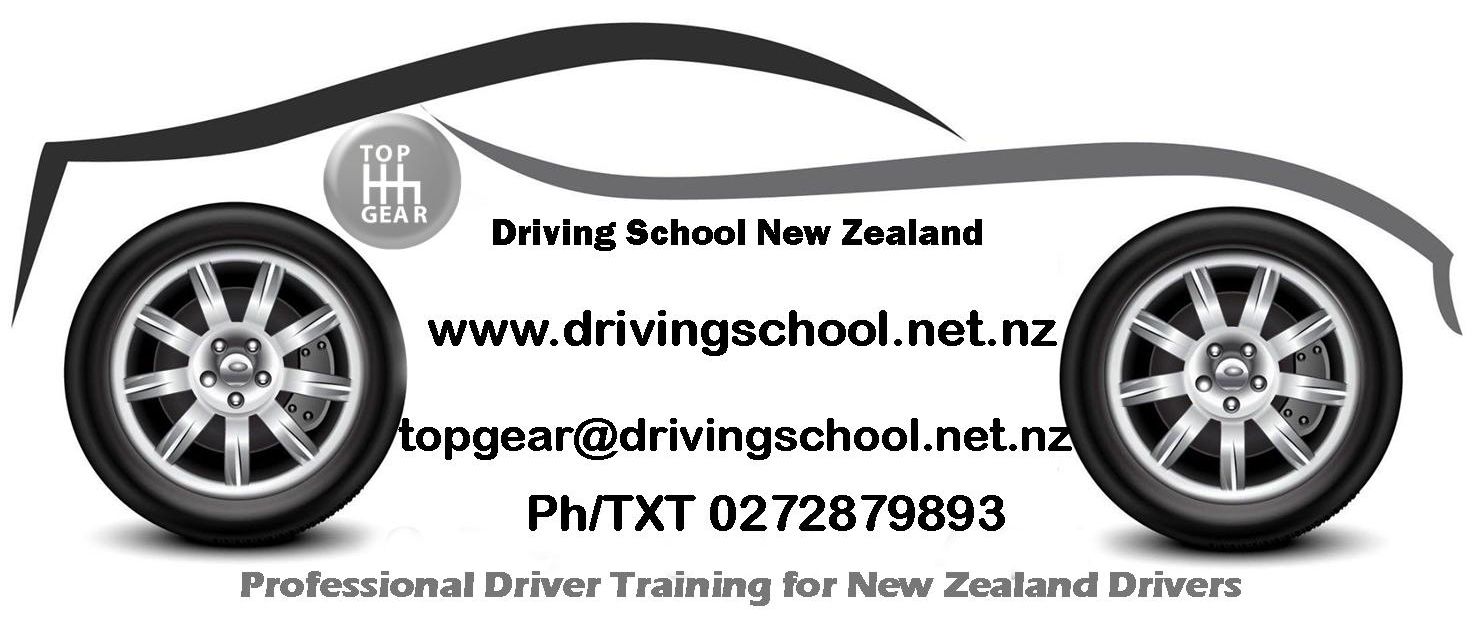 Make a Booking

Professional Driver Training For New Zealand Drivers
How do our students fare? Most people who take our Package lessons pass their driver's license test(updated 2017):
| Type of Licence | Pass Rate |
| --- | --- |
| Full standard | 100% |
| Overseas conversion | 100% |
| Restricted license | 98% |
| Heavy vehicle | 100% |
| Motorbike | 100% |
if you dont see your requirements listed ,please contact us and we will look at introducing a programme specific to your need.